Full line-up of Series 7: Part 2 writers is confirmed!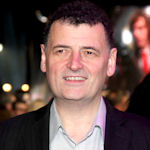 The latest issue of Doctor Who Magazine – out today – has announced the full line-up of writers who will be contributing to the second half of the current series.
Neil Cross, Mark Gatiss Stephen Thompson and Neil Gaiman have all been confirmed to accompany Steven Moffat in the script department for Series 7's remaining eight episodes, which are to be broadcast next year. All of the episodes star Jenna-Louise Coleman as the Doctor's new companion, who joins the show full time in this year's Christmas Special.
One of Mark Gatiss' upcoming 2013 stories guest stars Dame Diana Rigg alongside her real-life daughter Rachael Stirling, in a story set in Yorkshire. Neil Gaiman's return came to light back in September when he revealed he was "on the third draft" of the script.
This will be the first time Luther creator Neil Cross will have written for the Doctor, while Stephen Thompson is back after his pirates adventure, The Curse of the Black Spot.
See the latest Series 7 headlines to discuss all the developments as and when…