John Simm wants to play the Master "differently"
Warning! This article and its comments may contain spoilers...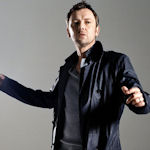 John Simm has admitted he would love to return to Doctor Who for the chance "to have another take on" his portrayal of the Master.
The actor was last seen on our TV screens as the renegade Time Lord in The End of Time, and he's revealed that he'd "love the opportunity to play him differently". "I would love to have another take on him – to be quieter," he explained. "I started annoying myself after a while. Russell T Davies had a specific idea of what he wanted him to be like."
He continued: "So I had to do exactly what he wanted me to – and he wanted a giggling lunatic. There's a new writer now and I'm sure his take on him would be different. I'd be interested to get a look. Personally I would like to take the Master to a very dark place."
John has previously said he'd relish the chance "to have a go" at Matt Smith's Doctor.
Thanks to JC for the tip!