Russell says he "loved every second" of Sarah Jane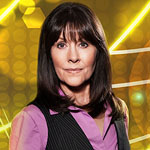 Russell T Davies was interviewed on Graham Norton's Radio 2 show over the weekend about his new series, Wizards Vs Aliens, which starts on CBBC today (Monday).
During their chat, he fondly looked back on his time making The Sarah Jane Adventures saying he "loved every second". The show ended when its lead actress Elisabeth Sladen lost her battle with cancer on 19th April 2011. Russell said that it came as "a terrible, terrible shock" when he heard she'd passed away because he and everyone else "adored" her.
"We were about to begin filming new stories when Lis told me she was ill," he explained. "She needed some time off, but she very much kept herself to herself as she didn't want people to know how ill she was. It was an absolute shock when she passed away and we immediately abandoned the show. Its heart had gone. Without Lis, it all ceased to exist."
He added that he'll always be tremendously proud of the legacy created for Lis through the 50 episodes which introduced her character to a new generation. He explained: "She has a huge legacy, and I know how much she adored making it. I loved Sarah Jane as a child and to see her return and be adored was a great solace when the bad news came."