Series 7: Part 1 – the Ponds' final ratings round up
Warning! This article and its comments may contain spoilers...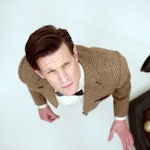 The final audience figures for the first 5 episodes of Series 7 have now been published.
The Ponds' final adventures had their fair share of surprises, drama and heartache (The Angels Take Manhattan we're lookin' at you!), but how did they fair in the ratings? Well, the opening episode – Asylum of the Daleks – was seen by an official audience of 8.33 million viewers while 7.57 million encountered Dinosaurs on a Spaceship. Next up, an impressive 8.42 million visited A Town Called Mercy.
7.67 million checked in for The Power of Three, and finally 7.82 million tuned in for Amy and Rory's swansong in The Angels Take Manhattan. Taking all the numbers into account, Series 7 Part 1 averaged 7.96 million viewers in the UK – not too shabby!
It's also been a worldwide success, breaking records in the US, Canada and Australia.

See the latest Series 7 headlines to discuss all the developments as and when…