Hugo Awards: Trio of Steven's scripts nominated!
Warning! This article and its comments may contain spoilers...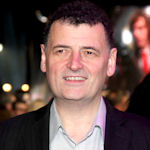 Three of Steven Moffat's Series 7 scripts are nominated at the 2013 Hugo Awards.
Asylum of the Daleks and The Angels Take Manhattan and the Christmas Special The Snowmen are all shortlisted in the Best Dramatic Presentation Short Form category at the sci-fi awards – the winners of which will be announced on 1st September 2013 at LoneStar Con 3 in Texas.
We would like to wish Steven the very best of luck!
Past episodes to win Hugo Awards are The Waters of Mars and The Doctor's Wife.
Series 7 will continue this Saturday on BBC One at 6:15pm in The Rings of Akhaten.