Anniversary song, Song for Fifty, to debut at Prom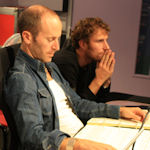 Murray Gold has revealed that an original song for the 50th anniversary will debut at the Doctor Who Prom.
The composer, who has worked on the show since its return in 2005, has written the new piece – entitled Song for Fifty – as a celebration of the Time Lord's half a century on TV.
It'll be performed live for the first time in front of audiences at this weekend's Prom at the Royal Albert Hall and Murray's said "it's a real privilege" to give fans something new.
"Because I have been in the Royal Albert Hall twice for Doctor Who, I know how the fans react," he told Mark Lawson on Front Row last night. "It is great to be able to write for an audience you know, speak to everyone in the room. I thought it would be appropriate to write something for the birthday. The last words in it are 'Happy birthday Doctor you", which I'm sure the audience is going to mishear. You must never call him by that name!"
Let us know if you'll be attending one of the Doctor Who Proms in the comments below…
Share your 50th anniversary hopes and dreams in our dedicated discussion…