Official synopsis for The Day of the Doctor released
Warning! This article and its comments may contain spoilers...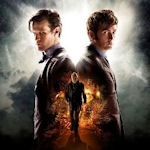 The BBC has finally released their official synopsis for the 50th anniversary special The Day of the Doctor!
The highly anticipated episode, starring Matt Smith, David Tennant and John Hurt as the three Doctors, premieres on BBC One on Saturday 23rd November and will be screened simultaneously on TV and in cinemas around the world.
The special also features Jenna Coleman and Billie Piper as companions Clara Oswald and Rose Tyler.
Check out the synopsis below. Can you deduct anything by reading between the lines…?
The Doctors embark on their greatest adventure in this 50th anniversary special.

In 2013, something terrible is awakening in London's National Gallery; in 1562, a murderous plot is afoot in Elizabethan England; and somewhere in space an ancient battle reaches its devastating conclusion. All of reality is at stake as the Doctor's own dangerous past comes back to haunt him.
Share your 50th anniversary hopes and dreams in our dedicated discussion…