An Adventure in Space and Time soundtrack date!
Warning! This article and its comments may contain spoilers...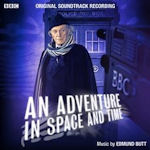 The previously confirmed An Adventure in Space and Time soundtrack has now been given a release date!
The album – featuring the highlights from composer Edmund Butt's score as heard in the retrospective BBC Two drama – will be available to buy and download from 3rd March 2014.
Orchestrated by Geoff Alexander, this soundtrack has been described as "incredible" and can now be pre-ordered from Amazon, HERE, for just under £10 (subject to change).
Will you be investing in this release? See it full track listing in our previous post, HERE.
An Adventure in Space and Time is also available to buy on a DVD boasting an array of brilliant bonus features and there is currently a petition for it to have a Blu-ray release.
See the latest Doctor Who products on sale now via our merchandise section!
Thanks to Silva Screen Records.