Final UK rating for The Time of the Doctor revealed
Warning! This article and its comments may contain spoilers...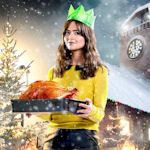 The final viewing figure for the latest Christmas special, The Time of the Doctor, has been revealed by BARB.
The special, which marked the climax of Matt Smith's tenure as the Eleventh Doctor, was watched by an official audience of 11.14 million on Christmas Day.
Doctor Who was the second highest rated programme of the day behind Mrs Brown's Boys. The figure also makes it the 5th most watched Doctor Who Christmas Special to date.
The Time of the Doctor is released on DVD/Blu-ray on 20th January. Pre-order it HERE.
Doctor Who Christmas Specials Viewing Figures To Date

Click HERE to review the Eleventh Doctor's final adventure in our discussion…
With thanks to @DWMtweets.