Listen to previews of 'Space and Time' soundtrack!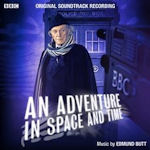 The BBC has released some previews of the An Adventure in Space and Time soundtrack which is officially released next month.
The DoctorWho.tv folks have posted snippets from a handful of their favourite tracks, which you can listen to HERE.
The score for the acclaimed docudrama, which was aired to coincide with Doctor Who's 50th anniversary last November, was composed by Edmund Butt.
The soundtrack's released by Silva Screen on 3rd March. Have you ordered your copy?
See the latest Doctor Who products on sale now via our merchandise section!