Blue (Da Ba Dee): new photo of Karen's latest role!
Warning! This article and its comments may contain spoilers...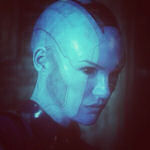 A new picture of Karen Gillan in her latest role has surfaced online.
This summer the Amy Pond star will arrive on the big screen in Marvel's Guardians of the Galaxy as Nebula.
The actress shaved her hair off for her portrayal of the alien and she unveiled her new look at Comic Con last year. The new pic shows the supervillain in all her glory and she's also glimpsed in the official trailer for the movie.
Guardians of the Galaxy is released in August. Are you excited for Karen's new project?

Above – Karen stars as Nebula in Guardians of the Galaxy. (Via realjamesgunn)
Karen also stars in Oculus which is released next month. Watch its official trailer HERE.