Exclusive Interview: Edmund Butt
Warning! This article and its comments may contain spoilers...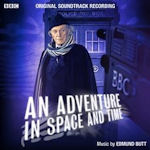 Today Silva Screen's released their official soundtrack to An Adventure in Space and Time and we're thrilled to bring you an exclusive interview with its composer, Edmunt Butt!
The one-off docudrama aired to critical acclaim in November as part of Doctor Who's 50th anniversary celebrations.
To mark the arrival of its accompanying score we caught up with the man behind the music for his fascinating insight into how the musical story of the Doctor's origins was realised.
A huge thank you to Edmund for answering our questions, which you can see below. The soundtrack is now available to buy here and keep an eye on our Twitter (@WhovianNet) as we'll be giving away a copy of the CD everyday this week courtesy of Silva Screen!
Q. It's great to speak to you, Edmund. When did you first release you were interested in composing?
A. I come from a very musical family so I started playing the violin and piano at the age of 4, and I started composing in my early teens. The idea of scoring came to me when I was about 18. I was playing on a Jerry Goldsmith movie session and just the power of the orchestra and image together blew my mind. From that day I knew that this is what I wanted to do.

Q. Are there any composers or aspects of life that particularly inspire you and/in your work?
A. There are many composers who inspire me. Richard Strauss, Beethoven, John Taverner, John Lennon, Thomas Newman, Pink Floyd, to name but a few. Nature is always a great inspirer for me. I scored a beautiful documentary a few years ago called "Yellowstone", which won the RTS award for Best Score. I found the music flowed so easily as I reacted to the awesome power of nature, which is so honest and unpretentious. I feel at one with the elements and find enormous inspiration which I can store for months.

Q. How did your involvement with Space and Time come about and were you already a fan of Doctor Who?
A. I got a call from Terry McDonough, the director, who had heard a showreel of mine. There was a particular track on that showreel that he felt really encapsulated the show. We had a meeting and immediately connected. I think we both knew straight away that I was the right person to score "Space and Time". I was a fan of Doctor Who as a young boy. Who wasn't?

Q. Where did you begin with the process of writing the score when you initially got the job?
A. Where do you ever begin? Somehow you have to find the essence of a film quite quickly. After long chats with Terry, his brief was to tell the story through a child's viewpoint. Therefore, fantasy, emotion and magic were my key notes for starters.

Q. When you first watched the unscored cut of Space and Time, what were the main factors you took into consideration when you began writing its soundtrack?
A. I was seriously inspired by the emotional performances from the cast. I also loved the period authenticity. It was a huge privilege to be working on this project, even in the early stages.

Q. What was the first piece of music you wrote for Space and Time and how did the rest follow?
A. The Dalek sequence, which was dark and predominantly electronic, was the first piece of music I composed. I started composing a very different type of score to the final one. This is not uncommon in scoring a film. I always say that nothing is wasted, even if it does not appear in the final edit of the film. It is all part of the process. I started darker and moodier but Terry steered me towards more positivity, hope and fantasy.

Q. How much time were you given to compose the soundtrack and how did it feel to see – or, more appropriately, hear – everything come together?
A. I had about 9 weeks to score and 10 days to orchestrate and prepare for the sessions in Abbey Road. Hearing it all come together is always slightly daunting, but such a pleasure. This project was extra special and the day we recorded the orchestra I really found it hard to keep my emotions in check on occasions! The team on this show made me feel very proud and privileged and I think we all knew that we were part of something very very good.

Q. How much were director Terry McDonough and writer Mark Gatiss involved in the process of making the score?
A. Both of them were immensely pro-active. Terry more so at the beginning, and then Mark towards the end. Both were wonderfully supportive and encouraging, which always makes me want to deliver the very best I can. The title music "Waltz" was a steer from Mark.

Q. What did you set out to achieve with the score and do you think you've achieved your aims?
A. I set out to support this picture, as I always do. However, I am most proud of how the score charted the emotional journey of William Hartnell's career. The extreme high of success and then the passing over of the mantle to Patrick Troughton at the end. I do believe that my music did the film justice.

Q. Were there any scenes in Space and Time which were particularly challenging to score?
A. Yes, the last 4 minutes were a major challenge due to the extraordinary emotions on screen. I wanted to be appropriate but not hold back. It took 3 weeks to nail this scene. I think I will always be moved watching the closing of this film.

Q. Do you have a track or piece of music from the soundtrack that you are especially proud of?
A. The cue called "New Doctor" at the end of the film.

Q. Based on your own experiences, what advice would you give to any aspiring composers?
A. Without sounding too hippy, I hope, I think you must always "keep the faith". You can learn so much by writing to picture, whether it's a commission or you are just starting out. Keep your individuality because, in the end, that is why people will hire you. You can always learn from other people's music and be influenced by it. If you can, don't be afraid to be yourself. The film world is crying out for composers with a voice – especially a unique one.

Q. Finally, have you got any upcoming projects you can tell us about?
A. I have a show starting on Sky One called "The Smoke" which is an 8-parter about firemen starting at the end of February. In April the second series of "In the Flesh", a 6-parter for BBC America and BBC Three, is to be aired. It's a fantastic show about zombies with a lot of heart! And then there is more due to be released towards the end of the year.
See the latest Doctor Who products on sale now via our merchandise section!