US to get 'Space and Time' in DVD, Blu-ray combo!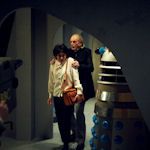 Whovians in the US will be able to bring home An Adventure in Space and Time in a 3-disc set from 27th May!
The popular docudrama starring David Bradley – which was aired last year for the show's 50th anniversary festivities – will be released in a DVD / Blu-ray combo with a bonus disc featuring the first ever serial, An Unearthly Child.
It will have a SRP of $24.98 and you can check out its cover artwork below. What do you think of it?
See the latest Doctor Who products on sale now via our merchandise section!
Thanks to TVShowsOnDVD.