A double whammy win at BAFTA TV Craft Awards!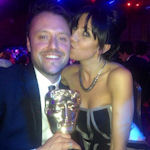 More celebrations are in order for Doctor Who, which was a deserved DOUBLE award winner at last night's 2014 BAFTA Television Craft Awards!
The series reigned supreme in two of the five categories for which it was nominated – firstly last year's acclaimed 50th anniversary special The Day of the Doctor triumphed as a result of its Special, Visual & Graphic Effects, while An Adventure In Space and Time was awarded for its Make Up & Hair Design.
Congratulations to the cast and crew, including Danny Hargreaves, SFX Supervisor, who tweeted to say: "Thanks to all the amazing fans who have helped us on this journey!"
With thanks to the BBC Doctor Who Blog.