Eve signs up to appear in next Broadchurch series
Warning! This article and its comments may contain spoilers...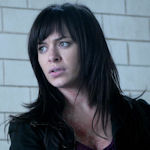 It has been confirmed that Eve Myles will be starring in the next chapter of Broadchurch which starts filming soon.
The actress, who is known for her portrayal of Gwen Cooper in Torchwood, will join David Tennant and Arthur Darvill in the return of ITV's acclaimed series which recently won Best Drama at the BAFTA TV Awards.
Not much is known about Eve's character in the show but its writer, Chris Chibnall, has described her casting as "a joy".
"As if we didn't have enough fabulous actresses already, it's a huge thrill to be joined by Wales' finest," he said. "Having worked together on Torchwood, I'm pleased to welcome her to Broadchurch." Good luck, Eve! Are you looking forward to seeing her in new role?
Eve has previously reaffirmed she's got her "fingers crossed" for Torchwood's return.