Karen poses for Selfie to star in new comedy series
Warning! This article and its comments may contain spoilers...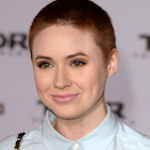 ABC has commissioned a new comedy series which will be of particular interest to fans of Karen Gillan!
In Selfie, the former Amy Pond actress stars as Eliza Dooley who has been described as "a 20-something who pays more attention to her online persona than professional image".
But when a video of her public and humiliating breakup goes viral, she enlists the aid of arrogant marketing expert Henry to overhaul her tarnished image.
Based on My Fair Lady, the series will also feature David Harewood who will be known to Doctor Who fans as Joshua Naismith in The End of Time. Will you be tuning in for Selfie?
In August, Karen will be seen on the big screen in Marvel's 'Guardians of the Galaxy'.