Hex named as your favourite Big Finish companion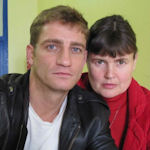 This month you've been voting for the ultimate original Big Finish companion and we're very excited to reveal that the all important results are now in.
Fans of Mr Thomas Hector Schofield can unite and rejoice as your votes – 31.3% – have honoured him as the #1 TARDIS alumni of the tie-in audio adventures. Hector (Hex for short) first encountered the Seventh Doctor and Ace in 2021. They had been investigating alien activity at the hopsital he was working at as a staff nurse. And the rest is history!
The man himself, Philip Olivier, has told WhovianNet he was "thrilled" when he found out Hex had been awarded this coveted title. "I love my work for Big Finish and touched that the public love what I am doing," he said. "My smile is right across my face so thank you to Sylvester McCoy and Sophie Aldred and all the talented actors who are involved. But, most importantly thank you to the people who have voted. I love you all. Long live Hex!"
A big thanks to Phil and everyone who voted. Our Hex celebrations will continue shortly!