Flashback Friday: Peter's Doctor debut!
Warning! This article and its comments may contain spoilers...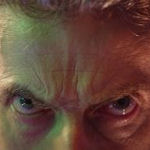 On the eve of Peter Capaldi's first full-length adventure as the Twelfth Doctor, join us for a Flashback Friday as we relive his debut scene in last year's 50th anniversary special…
In the climactic moments of The Day of the Doctor, the Time War was raging and the Doctors faced their greatest challenge yet as they united to save Gallifrey from the grasp of the Daleks.
Luckily Matt Smith's Doctor had his previous incarnations to lend a hand (11 pairs of them, to be precise!) but the nation gasped as someone else made an unannounced appearance at the party – just over a month before his expected arrival in the Christmas Special! Better early than late, right?
Of course this isn't the first time Peter has popped up in the series as in 2008 he portrayed Caecilius in the Series 4 episode The Fires of Pompeii. We've been told that his striking resemblance to our new Doctor "is certainly addressed" in the new series. Clone? Long lost twin? Only time will tell…
The feature-length Series 8 premiere Deep Breath airs tomorrow at 7:50pm on BBC One.