It's Sherwood Saturday!
Warning! This article and its comments may contain spoilers...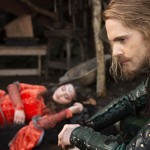 It's Saturday which means tonight we'll be treated to another helping of Doctor Who timey-wimey goodness as our heroes journey to a sun dappled Sherwood forest.
In Robot of Sherwood, the Doctor strikes up an unlikely alliance with Robin Hood as Nottingham lies in threat of an evil plan from beyond the stars. But can impossible heroes really exist?
Find out tonight on BBC One at 7:30pm and join us straight after – from 8:20pm – to share your thoughts.