2013 Specials soundtrack to be released
Warning! This article and its comments may contain spoilers...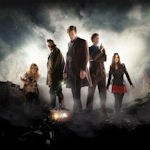 A soundtrack featuring music from the 2013 Doctor Who Specials will be released next month, it has been announced.
The 2 disc album will compile Murray Gold's scores from the 50th anniversary special The Day of the Doctor and the Christmas special, The Time of the Doctor.
Released by Silva Screen, it will go on sale in the UK on 24th November 2014, the day after the 51st anniversary of the series. The artwork features reversible covers and you can see them, and its tracklist, below.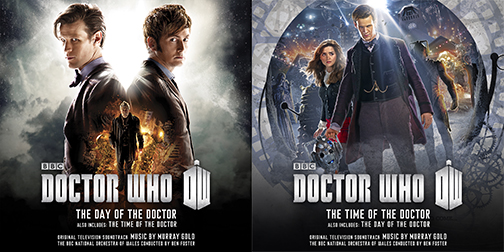 DISC 1 – The Day of the Doctor

I.M Foreman
Will There Be Cocktails?
It's Him (The Majestic Tale)
He Was There
No More
The War Room
Footprints in the Sand
Who Are You?
England, 1562
Nice Horse
The Fez and the Portal
Two Doctors
Three Doctors
Somewhere to Hide
Rescue the Doctor
2.47 Billion
Zygon in the Painting
Man and Wife
We Don't Need to Land
We are the Doctors
The Moment Has Come
This Time There's Three of Us (The Majestic Tale)
Song for Four/Home

DISC 2 – The Time of the Doctor

The Message
Handles
The Dance of the Naked Doctor
You Saved It
Papal Mainframe
Tasha Lemm
Bedroom Talk
The Mission
Christmas
The Crack
Rhapsody of War
Back to Christmas
Snow Over Trenzalore (Song for Four)
Beginning of the End
This Is How It Ends
Never Tell Me The Rules
Trenzalore/The Long Song/I Am Information (Reprise)
Hello Twelve
Browse the latest Doctor Who products on sale now in our merchandise section…