Series 8 boxset artwork, special features
Warning! This article and its comments may contain spoilers...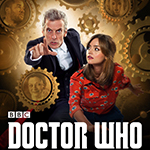 The BBC has finalised the artwork and special features for the complete Series 8 boxset.
As we previously reported, the 5 disc collection will be released in the UK on DVD and Blu-ray on 17th November 2014, compiling all 12 episodes from Peter Capaldi's debut series as the Twelfth Doctor.
The set will also include a host of special features, a full list of which can be found, along with the revamped cover artwork, below. Let us know what you think in the comments!
Special Features

DVD Exclusive: Doctor Who – Deep Breath Cinema panel session
DVD Exclusive: Audio Commentaries (Into the Dalek / Robot of Sherwood / The Caretaker / Kill the Moon)
Doctor Who: The Ultimate Time Lord
Doctor Who: The Ultimate Companion
Doctor Who: Earth Conquest (World Tour Documentary)
Cast interviews
Behind the Scenes (Casting Peter Capaldi / Writing the New Series / What is Doctor Who? / Why watch Doctor Who? / TARDIS Tour)
Foxes – Don't Stop Me Now (Music video from Mummy on the Orient Express)
Trailers
New series, new Doctor, new adventures. Click here for all the latest on Series 8!