Weeping Angels voted scariest villain – again!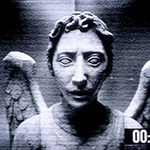 The scariest day of the year is upon us so it's time to reveal the results of our Who'looween Spooktacular – The Rematch!
Earlier this month we embarked on a spine-chilling mission to discover the scariest Doctor Who villain of all time. You've been voting in your hundreds and we're pleased to reveal that the winner, with 37% of the vote, is… The Weeping Angels!
Of course, this isn't the first time they've won the coveted title, as the spooky statues also reigned supreme in our last Who'loween Spooktacular back in 2010…
Their double whammy win proves that they really must be the most feared adversary in all the land. They were first introduced in Blink (which is an extremely misleading title, if you think about it…) and since then they have firmly established themselves as one of the universe's deadliest and most persistent foes. Thanks to everyone who voted and we hope you all have a happy and safe Halloween! Don't do anything the Doctor wouldn't do now…