Doctor Who merchandise double whammy
Warning! This article and its comments may contain spoilers...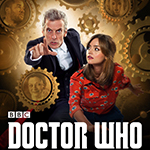 It's a double whammy for Doctor Who merchandise because both the Series 8 boxset and the official 50th anniversary soundtrack have been released today!
The DVD/Blu-ray of the Twelfth Doctor's debut adventures, which was delayed by a week due to a classification change, features all 12 episodes of this year's series as well as an array of special features including audio commentaries and exclusive interviews with the cast.
And that's not all you can get your Whovian hands on today.
Silva Screen's long awaited soundtrack for The Day of the Doctor is also now on sale. It features 23 of Murray Gold's tracks from the landmark special as well as an extra disc of scores from Matt Smith's final adventure as the Eleventh Doctor, The Time of the Doctor.
Will you be picking up either or both of these items, or perhaps you're purchasing them as a gift for a fellow Whovian? Let us know in the comments below or tweet us @WhovianNet.
Browse the latest Doctor Who products on sale now in our merchandise section…