Last Christmas final ratings
Warning! This article and its comments may contain spoilers...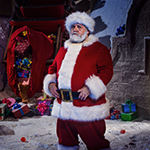 The final UK rating for last year's Christmas Special, Last Christmas, has been revealed.
The seasonal episode – Peter Capaldi's first in his role as the Twelfth Doctor – was watched by an official audience of 8.28 million viewers in the UK making it the show's least watched festive offering to date.
Saying that, it's a considerable rise from its initial overnight of 6.3 million which shows that many of its viewers opt to record it and watch it within the first 7 days of its broadcast.
Doctor Who Christmas Specials Ratings 2005-2014

Voyage of the Damned (2007) – 13.31 million
The Next Doctor (2008) – 13.1 million
A Christmas Carol (2010) – 12.11 million
The End of Time, Part One (2009) – 12.04 million
The Time of the Doctor (2013) – 11.14 million
The Doctor, The Widow and The Wardrobe (2011) – 10.77 million
The Snowmen (2012) – 9.87 million
The Runaway Bride (2006) – 9.35 million
The Christmas Invasion (2005) – 9.84 million
Last Christmas (2014) –  8.28 million
"It's a long story." Click here to discuss this year's Doctor Who Christmas Special!