Paul Kaye to guest star in Series 9
Warning! This article and its comments may contain spoilers...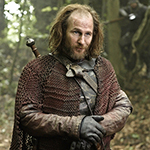 Filming for Series 9 of Doctor Who began earlier this week (Monday) and its first guest star has been revealed.
Actor and comedian Paul Kaye will be joining Peter Capaldi and Jenna Coleman, who are both reprising their respective lead roles as the Twelfth Doctor and Clara, for one of their 2015 adventures.
He will be best known to Game of Thrones fans for his portrayal of Thoros of Myr and the BBC confirmed his involvement in the new series of Doctor Who to Digital Spy.
Details regarding Series 9 – including which of its episodes is currently being filmed – are scarce but fans are hoping we'll be treated to some new information in this month's Doctor Who Magazine which goes on sale tomorrow (Thursday). Series 9 will begin in the autumn.
The Doctor returns in The Magician's Apprentice… Click HERE for the latest news!