Russell declines 10th anniversary invitation
Warning! This article and its comments may contain spoilers...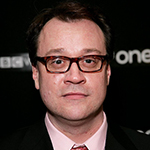 Russell T Davies has revealed that he's declined an offer from the BBC to return to Doctor Who for its 10th anniversary.
2015 marks a decade since the show's return to our screens and the former showrunner, who oversaw its critically acclaimed revival, has admitted that he's concentrating on his own projects and doesn't have time to commit to a comeback. "I don't know what they imagined," he told Radio Times. "A talk or a convention perhaps. I just said no. To be honest, a programme can't have its fiftieth and then it's tenth. That's just confusing. Let it carry on."
He continued: "I made 60 episodes and did 40 Torchwoods and 40 Sarah Janes and there are an awful lot of ways to destroy the world in there. Steven Moffat invites me every year to come and write one. I love him and I love them and I love watching it, but here I am, moving on. I love Doctor Who but nothing is more important to me than my own stuff."
It's currently unknown what the BBC is planning, if anything, to mark the 10th anniversary of 'NuWho' but rumours suggest that new minisodes are being produced for the milestone.