Blink director returns for Series 9
Warning! This article and its comments may contain spoilers...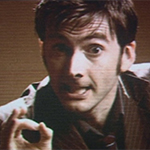 Hettie MacDonald will be returning to direct Doctor Who this year, it has been confirmed.
Her upcoming Series 9 episode began filming today as part of the production's second shooting block but she's no stranger to the Doctor's adventures because she previously helmed Blink in Series 3. The iconic episode introduced the Weeping Angels and it went on to won a prestigious Hugo Award for Best Dramatic Presentation, Short Form back in 2007. The new series will begin on BBC One in the autumn.
The Doctor returns in The Magician's Apprentice… Click HERE for the latest news!