Series 9 filming heads to Tenerife
Warning! This article and its comments may contain spoilers...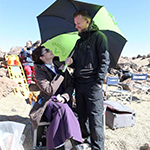 The Doctor Who production team have set up base in Tenerife where Peter Capaldi, Jenna Coleman and Michelle Gomez have been filming scenes for the brand new series.
The cast and crew have been spotted on location in Spain which is being used as one of the backdrops for Series 9's two-part premiere, The Magician's Apprentice and The Witch's Familiar, written by Steven Moffat and directed by Hettie MacDonald. The opening adventure will feature the return of Missy who was last seen being shot by the Cyberman Brigadier in the Series 8 finale Death in Heaven.
Death has never stopped the Master before, though, and something tells us she'll be back with an almighty vengeance when the series returns to our screens this autumn. Below is another behind the scenes image, released by the official Doctor Who Twitter, and they've also revealed this "sneak peek" video featuring a glimpse of Peter and Jenna in action…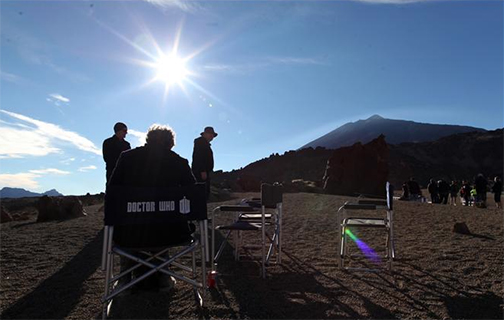 This isn't the first time Doctor Who has been shot in Tenerife. Filming also took place there for Asylum of the Daleks, A Town Called Mercy and, most recently, last year's Kill the Moon. Sometimes Wales doesn't always make the cut, apparently… not even the quarries!
The Doctor returns in The Magician's Apprentice.. Click HERE for the latest news!