Osgood, Zygons to return in Series 9
Warning! This article and its comments may contain spoilers...
Osgood and the Zygons will be returning to Doctor Who, it has been confirmed today.
Ingrid Oliver will be reprising her role as the popular UNIT scientist, who was killed by Missy during the Series 8 finale, in Episodes 7 and 8 of the new series. Steven Moffat has teased that "anything can happen" as she'll be back alongside the Zygons who were last seen in The Day of the Doctor, during which Osgood was cloned by the shape-shifting monsters. The two-parter, written by Peter Harness and directed by Daniel Nettheim, will also feature Kate Stewart.
"Osgood is back, fresh from her recent murder," Steven teased. "We told you Osgood was dead, but she's back in action. This time though, can the Doctor trust his number one fan?"
Ingrid added: "There is always that secret hope you'll get the call asking you to come back, so to receive that call is unexpected but brilliant. I was so sure that Osgood was a gonner!"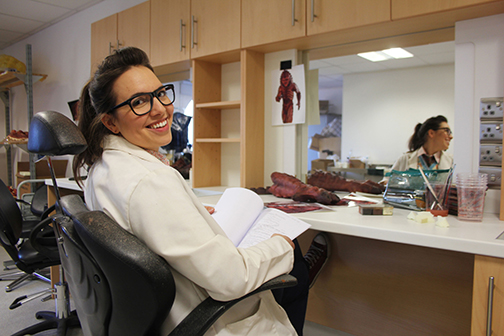 Other guest stars for the episodes include Jaye Griffiths, Cleopatra Dickens, Sasha Dickens, Abhishek Singh, Todd Kramer, Jill Winternitz, Nicholas Asbury, Jack Parker and Aidan Cook.
Are you excited to see Osgood and the Zygons again? Let us know in the comments below!
Filming for Series 9 is currently underway. It's scheduled to air on BBC One in the autumn.