Jenna says her final scenes are "emotional"
Warning! This article and its comments may contain spoilers...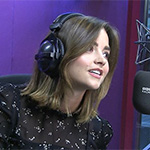 Jenna Colman has revealed that her final Doctor Who scenes are "emotional".
Yesterday it was announced that the actress will be bowing out as Clara Oswald during Series 9 and Radio 1's Nick Grimshaw was on hard to chat to her about the experience of filming her final scene. "I have left the TARDIS," she said. "It's happened. I've filmed my last scene and it was emotional. It's been in the works for a long time. Steven and I sat down a year and a half ago to work out how we could tell the best story. I think we've done it. It's really cool."
Series 9 of Doctor Who starts tonight on BBC One at 7:40pm in The Magician's Apprentice.