Next Time: The Witch's Familiar
Warning! This article and its comments may contain spoilers...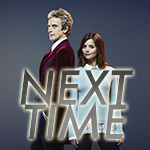 Doctor Who returned with an almighty bang tonight and the double whammy of drama continues next weekend in The Witch's Familiar.
Trapped and alone in a terrifying Dalek city, the Doctor is at the heart of an evil Empire. No sonic, no TARDIS, nobody to help. With his greatest temptation before him, can the Doctor resist? And will there be mercy?
The Witch's Familiar airs on Saturday 28th September at 7.45pm on BBC One.
He's back! Click here to discuss the Series 9 premiere, The Magician's Apprentice!