Matt to star in Robert Mapplethorpe biopic
Warning! This article and its comments may contain spoilers...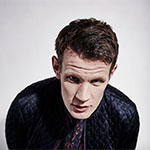 Matt Smith's latest role has been revealed by Deadline.
The Eleventh Doctor actor will be starring in a new biopic as Robert Mapplethorpe, the avant-garde photographer known for his black and white nude portraits who died of AIDS in 1989, aged 42.
The film – simply titled "Mapplethorpe" – will be directed by Ondi Timoner when filming begins in the summer. Zosia Mamet co-stars as singer-songwriter Patti Smith, Mapplethorpe's one-time lover and best friend.
Are you looking forward to seeing Matt take on his new project? Speaking of which, he'll be coming to a big screen near you next month in Pride and Prejudice and Zombies, while the new drama The Crown, in which he stars as the Duke of Edinburgh, will be arriving on Netflix later this year. He will also appear in Patient Zero, coming to cinemas in September.