Matt says he owes "great debt" to Who fans
Warning! This article and its comments may contain spoilers...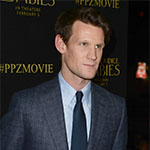 Matt Smith has revealed that he owes "a great debt" to Doctor Who fans for supporting his subsequent success.
The actor bowed out as the Eleventh Doctor in 2013 and has since gone on to enjoy a string of high profile roles, including his latest appearance in Pride and Prejudice and Zombies, released in cinemas this week. Promoting the film, the former Time Lord affirmed that he isn't "trying to actively shed" his association with the world's longest running sci-fi franchise. "Doctor Who was always going to sit on my ether for a bit," he said. "But it's something that I'm very proud of."
He continued: "The Who fans are wonderfully loyal and that character was a fantastic part, one that has been played before but allowed me to reinvent. So I will be forever grateful."
You will also be able to catch Matt on Netflix later this year when he takes on the guise of Philip Mountbatten, Duke of Edinburgh, in the original 10-part period drama "The Crown".