Sheridan Smith returns to Big Finish
Warning! This article and its comments may contain spoilers...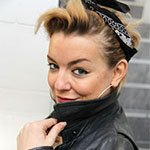 Sheridan Smith will be reprising her role as Lucie Miller for a new Short Trip audio adventure, it has been confirmed.
Big Finish revealed the news live on stage at Gallifrey One 27 this weekend and the announcement is bound to excite long term fans of the popular Eighth Doctor companion who made her last appearance in To the Death back in 2011.
The new story, The Curse of the Fugue by Alice Cavender, pitches Lucie and the Doctor into events at an old people's home during Britain's Winter of Discontent.
"I've missed Big Finish, and I've really missed playing Lucie," Sheridan said. "Those years of playing her with Paul McGann were so much fun, so I am very grateful and happy to be back in the studio. The fans have been great, they've really taken to her. I've missed her!'
The Curse of the Furgue will be available to download in April, priced £2.99. Don't miss it!