Twelfth Doctor to make "Class" cameo?
Warning! This article and its comments may contain spoilers...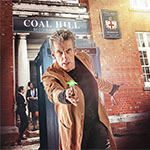 A new report has surfaced with the proposal that Peter Capaldi will be making a cameo appearance in Doctor Who's new spin off, Class.
According to the Radio Times, producers are currently putting the final touches on the show's cast ensemble, with official announcements expected soon, in time for filming to begin in April. An insider has teased that the 8-part drama will have a "close connection" with its parent show, seemingly suggesting that the Twelfth Doctor himself will be making an appearance, possibly in the guise of its caretaker.
Class has been created and written by award-winning author Patrick Ness and will follow the lives of a group of Coal Hill School students whose lives are turned upside down by growing up… with added monsters. It will premiere on BBC Three later this year, however it is unknown if it will be released online in weekly installments or "drop" as one entire series.
Would you like to see the Twelfth Doctor pop up in Class? Let us know in the comments…
Get to Class! Read all the latest developments about Doctor Who's new spin off…