Happy Birthday, David Tennant!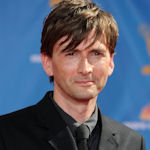 Join us as we raise our glasses to wish David Tennant a very happy birthday!
The actor – who helmed the TARDIS from 2005 to 2010 – turns 45 today, and we hope he enjoys his celebrations. He'll be back on our screens this weekend as he takes to the stage to host Shakespeare Live!, being broadcast on TV and in cinemas, and Christmas will come early for Tenth Doctor fans next month with the high anticipated releases of Big Finish's new audio adventures, as well as an original novel. Post your own birthday messages for David below. Allons-y!