The Doctor, Donna return in DWM #498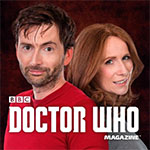 A brand new Doctor Who Magazine has been released this week and you'll have no trouble spotting it on the shelves as it features two of the most familiar and beloved faces in sci-fi history.
And no, we're not talking about Captain Jack and River Song (although how great would that be?!). This month's cover stars are none other than David Tennant and Catherine Tate who – just in case you missed the memo – have reunited for a new range of Big Finish audio adventures which will be released to buy and download next month.
Inside Issue #498, the real life alter egos of the Tenth Doctor and Donna Noble spill the beans on their forthcoming return to the airwaves, which Catherine describes as "original" and "very fun to do". Meanwhile, John Leeson reveals what it's like to be the voice of K-9 as Elisabeth Sladen's daughter, Sadie Miller, reflects on growing up in the world of Doctor Who. There's all of that and more in Doctor Who Magazine #498, out now priced at £4.99.
Browse the latest Doctor Who products on sale now in our merchandise section…