WhovianNet LIVE: The new companion is revealed!
Warning! This article and its comments may contain spoilers...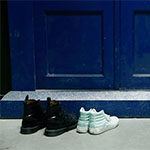 The moment has finally arrived! It's Saturday 23rd April 2016 and the Doctor Who fandom is on tenterhooks as Whovians across the land eagerly twiddle their thumbs in anticipation for tonight's FA Cup semi-final on BBC One.
And yes, that is a sentence we never thought we'd say. Don't worry, though, it's all for a good cause, as the brand new companion will be spectacularly announced during half-time (around 6pm BST), which means that a brand new era in the TARDIS is about to begin! Pretty exciting, huh? And it's about time, too!
We don't know what shocks and surprises tonight will bring, but stick with us throughout the day for live updates right here and on our Twitter, @WhovianNet. We'll be covering the build up, the announcement and the aftermath, so there really is only one place to be. Get comfy, get involved and join us as we await the arrival of our new hero! Somebody's life is about to change forever. Let us know your predictions and general excitement below!
The new companion will be revealed at around 6pm BST

4:00pm: 2 hours and counting! We'll be spending the next 120 minutes singing along to the #DoctorWho theme tune. Thanks.

3:46pm: We wonder how the #NewCompanion is feeling now, knowing that their life is about to change forever… #TheCalmBeforeTheStorm #DoctorWho

3:12pm: Who would be your DREAM companion? Your suggestions can and should be as weird and wonderful as you like! #DoctorWho

3:00pm: Just 3 hours until the world finally gets to meet the #NewCompanion! Is this how time normally passes?! #DoctorWho

2:45pm: It only feels like yesterday that @Jenna_Coleman_ was announced, yet here we are waiting for the next one. Time really does fly! #DoctorWho

2:20pm: #ICYMI, here are WhovianNet's top picks for the #NewCompanion. Is your money on any of them? Let us know! #DoctorWho

2:00pm: 4 hours and counting. Get ready to meet the #NewCompanion! The next chapter in #DoctorWho history is about to begin.

1:00pm: 5 hours to go! Who do YOU think the #NewCompanion will be? And no, you can't nominate yourself. Place your (realistic) bets now! #DoctorWho

12:00pm: Have you seen the teaser for tonight's reveal? The #NewCompanion already has a lot of running to do! #DoctorWho

11:27am: Guys, this is NOT a drill. The #NewCompanion has a HAND. We don't know how much more of this we can take. #DoctorWho

11:16am: #ICYMI, an Earth-shattering picture of shoes. Definitely a step in the right direction. #NewCompanion #DoctorWho

10:50am: It's Saturday! The FA Cup semi-final is almost here! Oh, and the #NewCompanion reveal. WAY more exciting. #DoctorWho