Michelle confirms Missy return in Series 10?
Warning! This article and its comments may contain spoilers...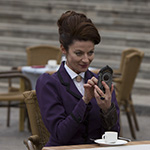 Michelle Gomez has reportedly revealed that Missy will be returning to Doctor Who in Series 10.
After previously being suggested by Steven Moffat last year, when the showrunner teased that fans "should definitely expect more" from the renegade Time Lady in the near future, the actress herself has seemingly confirmed the news during a Q&A panel at MegaCon Orlando this weekend.
It will come as an exciting announcement for her legion of devotees who fell in love with her upon her debut in Series 8.
Her subsequent return in Series 9 earned Michelle a prestigious BAFTA nomination earlier this year, though she was unfortunately unsuccessful on the night. Better luck next time, which might just be as early as next year if these reports are to be believed. Only time will tell, of course, and as we await an official response from the powers that be at the BBC, let us know if you'd be happy to see Missy again in the comments section below…
New adventures. New companion. Same Doctor! Read the latest Series 10 news…