And we're off! Series 10 filming begins
Warning! This article and its comments may contain spoilers...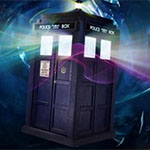 Filming on Series 10 commenced in Cardiff earlier this week as the TARDIS finally reopened its doors to get the ball rolling on Peter Capaldi's third string of adventures.
It marked the beginning of a brand new era as Pearl Mackie stepped in front of the cameras to kick start her journey as the Twelfth Doctor's brand new companion, Bill, to be greeted by a bouquet of flowers from her predecessor, Jenna Coleman, as a special good luck charm. Not that she needs it, of course! But it's not all about new faces this year, as here's a blast from the not so distant Christmas past…
It's just been confirmed that Matt Lucas will be reprising his role as Nardole to accompany our honourable heroes through time and space. Introduced as a guest stint in last year's Christmas Special, The Husbands of River Song, the actor promised his Twitter followers that his character will become "more textured" as he embarks on the trip of a lifetime.
But what other surprises will Series 10 have in store? There's already plenty to be excited about, including the return of writers Frank Cottrell-Boyce and Sarah Dollard, but we'll just have to wait until 2017 to find out for ourselves. Oh, what we would give to be a fly on the wall at Roath Lock Studios right about now… Where is a TARDIS when you need one, eh?!
New adventures. New companion. Same Doctor! Read the latest Series 10 news…