Doctor Who Movie Blu-ray artwork revealed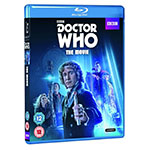 Last week we brought you the exciting news that the Doctor Who TV Movie will be getting its long-awaited Blu-ray release this autumn, and now we can bring you its awesome artwork!
The feature-length adventure is celebrating its 20th anniversary this year and now fans can enjoy Paul McGann's debut outing as the Eighth Doctor in all its digitally-remastered glory, alongside a host of special features including exclusive interviews, commentaries, alternative takes and The Night of the Doctor.
The 2 disc set will be released on 19th September 2016, and can be pre-ordered online.
Browse the latest Doctor Who products on sale now in our merchandise section…