Canada, Australia add Xmas Special cinema screenings
Warning! This article and its comments may contain spoilers...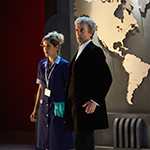 Two more countries have announced cinema screenings of this year's Doctor Who Christmas Special, The Return of Doctor Mysterio.
As previously confirmed, the festive episode will get a two-night theatrical outing in the US after its premiere on BBC America, and now fans in both Canada and Australia will be able to enjoy the seasonal escapade on the big screen, too. The special events will take place in Canada on Boxing Day and 28th December 2016, and on Boxing Day in Australia, the same day as it will premiere on ABC at 7:30pm.
Tickets are now on sale and you can find your nearest participating cinema using the links above. Let us know if you'll be attending one of the cinema events in the comments below!
Is it a bird? Is it a plane? Everything you need to know about Doctor Mysterio… »