Doctor Who to get "major shake-up" in 2018?
Warning! This article and its comments may contain spoilers...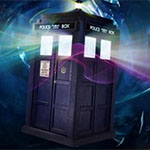 A fresh report has surfaced today suggesting that Doctor Who will be getting a "major shake-up" in 2018 to coincide with the arrival of its new showrunner, Chris Chibnall.
According to the Mirror (we know, but bear with us!), the BBC have agreed to give its incoming chief a "clean slate" with a "younger, dashing" Doctor and a "new young female companion", suggesting that both Peter Capaldi and Pearl Mackie will be vacating the TARDIS at the end of Series 10 next year. It is alleged that this decision has been made to "recreate the David Tennant era" in a bid to improve ratings.
Under the helm of Russell T Davies, the show peaked at viewers of up to 13 million, while the most recent episodes averaged an audience of 6 million. Merchandise sales have been on the decline, too, with the revamp slated to "boost the show's popularity with kids".
It's all just rumours at the moment, of course, but how would you feel if Doctor Who came back in 2018 as a "brand new show"? Big changes are inevitable with the arrival of a new exec, but should they really be this extreme? Discuss the developments in the comments…
Loading ...
The Doctor is back on screens on Christmas Day in The Return of Doctor Mysterio.