New picture from The Return of Doctor Mysterio
Warning! This article and its comments may contain spoilers...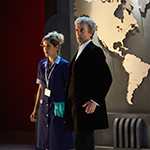 The BBC have released a new still from this year's Doctor Who Christmas Special, The Return of Doctor Mysterio.
The latest image – below – features the Doctor himself, Peter Capaldi, alongside guest star Charity Wakefield as investigative journalist Lucy and Matt Lucas as returning companion Nardole. There's plenty more where that came from in this preview clip, and don't forget to check out our list of 5 things we're looking forward to about the episode, which will premiere on BBC One on Christmas Day.
Is it a bird? Is it a plane? Everything you need to know about Doctor Mysterio… »