New Series 10 monster spoilers revealed?
Warning! This article and its comments may contain spoilers...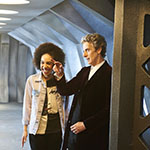 Some interesting spoilers have surfaced online which seemingly tease the identities of three new villains that the Doctor and Bill will be facing in Series 10.
The tidbits come from the Mirror, who this week claimed that the series will be getting a "major shake-up" in 2018, so it's probably worth taking them with a pinch of salt for the time being. It's still fun to speculate nonetheless (and we've got to take anything we get in a Doctor Who gap year!), so highlight the white space below to see what could potentially lie in store…
Episode three of the new series features the snake monster that lives under the Thames.
Then in episode four, we find out why our floorboards squeak – there are giant woodlice in there. Another episode features killer robots that have emoji faces. They like to give hugs, then reduce their victims to skeletons.
They sound terrifying! Let us know what you make of the rumours in the comments below!
New adventures. New companion. Same Doctor! Read the latest Series 10 news…