We're halfway through 'Class'. So far, so good?
Warning! This article and its comments may contain spoilers...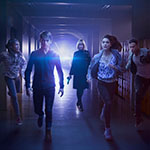 It's hard to believe that we're already halfway through the first series of Class, but it just goes to show that time really does fly when you're having fun. Or rather, when you're being chased through school corridors by dragons and robots and Shadow Kin, oh my…
So, what's your verdict thus far, then? The first four episodes have been one hell of a ride, firmly establishing this latest era in Doctor Who's ever-expanding mythology as its own force to be reckoned with. We've met new friends and foes alike, but has Coal Hill School Academy been worth going back to?
While Charlie's been getting to grips with life on Planet Earth, Ram's been splattered with blood (more than once), Tanya's had a chinwag with her deceased father and April's been battling her inner demons as the co-owner of a lonely heart. Oh, and Miss Quill has been keeping herself busy too, though it looks like there's lots more from her to come, if this dramatic new trailer previewing the rest of the series is anything to go by. Yup, it's just one thing after the other for our honourable heroes, but how have they been holding up?
Let us know how you're feeling at the halfway point of the series in the poll below, and don't forget that you can also delve deeper into the drama in our individual Discussions for every episode. What and who are you loving? What's disappointed you? And what are your hopes going forward? We wanna know, so start talking/voting, right… about… now!
Loading ...
Brand new episodes of 'Class' are released at 10am every Saturday on BBC Three.