Class to air on BBC One from next month
Warning! This article and its comments may contain spoilers...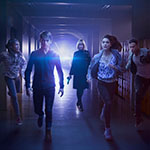 It has been confirmed that Class will be receiving its official televisual premiere next month when it lands on BBC One on Monday 9th January 2017.
The Doctor Who spin off was originally released online on BBC Three, where it's still available as a boxset, but its small screen debut will hopefully reach out to new viewers who may have missed out the first time round.
They will have to stay up late to tune in, however, as it's been given the 'graveyard' 10:45pm time slot.
So that's the first series of Class on BBC One, Mondays at 10:45pm from 9th January. Or you could just watch the whole thing right now. You know, whatever floats your boat.
The end is nigh. Click here to Rate & Discuss the epic series finale of Class, The Lost »