Pre-order the Christmas Special on DVD, Blu-ray
Warning! This article and its comments may contain spoilers...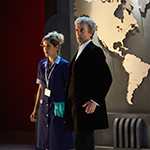 You can now pre-order this year's Doctor Who Christmas Special on DVD and Blu-ray, because Whovians are nothing if not unashamedly organised.
Although The Return of Doctor Mysterio doesn't actually air until Christmas Day, you can already reserve your own copy of it in time for its release – on both formats – on 23rd January 2017. There has been no official artwork or special features confirmed yet but it's still early days, seeing as we've actually got to watch the episode first. Still, there's no harm in being prepared. It's what the Doctor would do. Probably.
Is it a bird? Is it a plane? Everything you need to know about Doctor Mysterio… »