Series 10 confirmed to start on Saturday 15th April
Warning! This article and its comments may contain spoilers...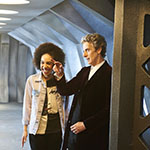 It has been confirmed that Series 10 of Doctor Who, which will formally introduce Pearl Mackie as new companion Bill, will begin airing on BBC One on Saturday 15th April 2017.
The news was confirmed by Peter Capaldi during his guest appearance on Jo Whiley's Radio 2 show earlier tonight (Tuesday), on which he also announced that he'll be stepping down as the Twelfth Doctor after this year's Christmas Special, the final episode to be written by outgoing showrunner Steven Moffat.
As the countdown to seeing the universe anew officially begins, check out the first Series 10 trailer (again!) and keep up to date with the very latest news and developments here.
New adventures. New companion. Same Doctor! Read the latest Series 10 news…