Rumour: Class cancelled after one series?
Warning! This article and its comments may contain spoilers...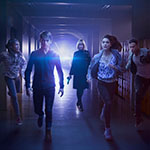 A new tabloid report from the Mirror suggests that the BBC has decided to cancel Class after one series.
The Doctor Who spin off premiered online on BBC Three last year before debuting on BBC One in January. The article in question focuses on its low ratings, as it failed to make the Top 50 on iPlayer throughout its initial run, while its TV figures dropped from 1 million to just 300,000.
Its writer and creator, Patrick Ness, has since taken to his Twitter to falsify the claim.
Fans will just have to wait and see what the future of Coal Hill holds, but it's likely that an announcement won't be made until after it's aired in the US. It will debut on BBC America straight after the first episode of Series 10 of Doctor Who on Saturday 15th April 2017.